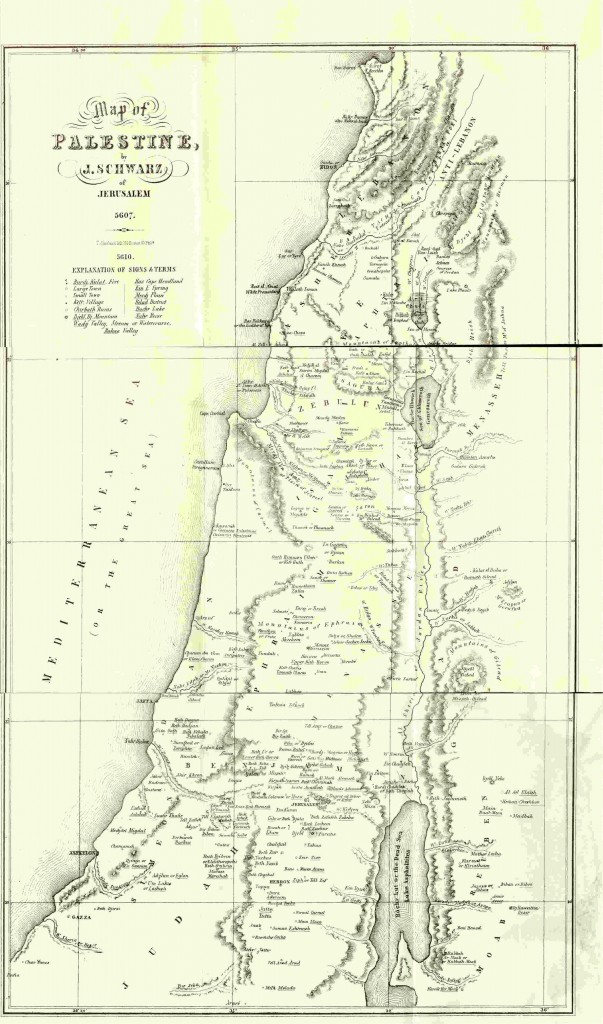 While looking for sources about the origin of the name Yarden ירדן Jordan River, I found a charming book called "תבואות הארץ" (grains of the land [Israel]) that was written by ByRabbi Joseph Schwarz, 1850. It was translated to English under the title,"Descriptive Geography and Brief Historical Sketch of Palestine".
The book that originally was written in Hebrew, gives an accurately geographical description of the land and connects the names and the places to their biblical sources, or other historians as Flavius Josephus, Joseph ben Matityahu .
The written Hebrew is flowing, warm and kindhearted: the feeling that we get as readers, is of a constant dialogue with the writer. The words and the descriptions are so accurate that one might think that that he sees everything through a digital lens: hence, Rabbi Yehosef supports each name with a concrete evidence from the Bible, the Talmud, and diverse commentator before him. If we follow the description we feel timeless, everything is happening here and now:
What deeply engaged me today is the fact that a person that was born in Bohemia and brought up in the lap of German culture, expresses himself sharply in Hebrew, researches the reincarnation of names in different languages and exposes for the reader a wide colorful map of the land through a time tunnel.
Enjoy your reading!
_
img: from the book by By Rabbi Joseph Schwarz.