Shalom,
As Hanukkah is slowly approaching we're looking back on the last year and it almost looks like a miracle.  So little time has passed and we achieved so much. Thanks to readers like you who support independent learning materials we built up a thriving community on Facebook, Twitter and released many different ebooks over the months.
Now that Hanukkah is slowly approaching we'd like to express our gratitude through a special gift offer. We proudly present…
The Holy Hanukkah Hebrew Ebook Bundle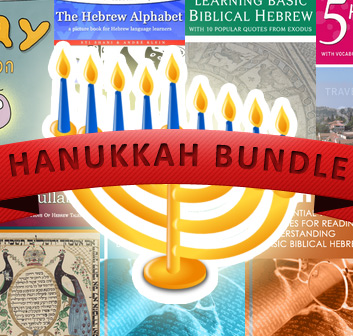 This Hanukkah we are giving away seven books on a "pay what you want" basis, starting now. Among these books are our bestselling beginner's guide to the Hebrew Alphabet, Hebrew dialogue practice, Biblical Hebrew flashcards, a picture book for children and much more. On top of that we will donate 10% of all proceeds to a local charity in Israel devoted to disadvantaged children.
This offer will last only until the end of Hanukkah, so if you'd like to get this bundle for your loved ones (or even for yourself) don't wait too long! 🙂
Click here to find out more!
חג שמח and Happy Holidays!
Eti Shani,