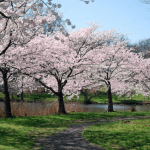 Psalms (in Hebrew:תְהִלִּים, te-hi-lim) is a book of prayers from the Bible that contains 150 poems, which according to traditional belief were composed by King David. Each and every Psalm describes a different inner situation of a human's soul, on its journey, here down on earth, yearning to be with the divine, the eternal and the complete.
I composed the following translation for my Hebrew students who read the Hebrew Psalms from the Bible, and try to find a connection to the Psalms translations that exist all over. To them, and to all people who wish to read Psalms, and to our friends in Japan I dedicate this Psalm.
Psalm 1
Happy is the man who did not walk in the wicked's advice and did not stand in the path of sins, and did not sit in the seat of clowns.
Whereas his wish is in The Name's Truth, and on his Truth he shall ponder day and night.
And he shall be like a tree, planted on springs of water that its fruit it shall give in it's time, and it's leaf shall not wither, and all that he does he shall succeed.
Unlike the wicked, but rather like a husk, that the wind shall thrust it.
Therefore the wicked shall not stand in the trial, and sins (shall not stand) in the righteous community.
Because The Name knows the ways of the righteous and the way of the wicked shall be lost.