And in the times of the judges, there was a famine in the country. And a man from Beit Lechem1 , Yehuda2 went to dwell in the fields of Moab3: he, his wife and both of his sons.
Elimelech4 was the man and his wife was Naomi5  and both their sons: Machalon6  and Kilyon7. Efratim8  from Beit Lechem, Yehuda.9 They came to Moab fields and they lived there.
While being there, Elimelech, Naomi's husband, died, and she was left with both of her sons which married Moabitan women. The first named Orpah10 and the second was Ruth11 . And they dwelled there for ten years.
When the hand of time bit them again, both sons, Machalon and Kilyon died too, and only Naomi was left, from her sons and from her husband.
After mourning and lamenting her dearests, Naomi turned back with her daughters in law from the fields of Moab to Beit Lechem following a rumour that God remembered his people to give them bread.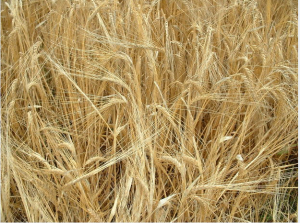 And off she went from Moab, escorted by her daughters in law getting closer to the land of Yehuda. On the way, told Naomi to her daughters in law to return, a woman to her mother's home, and bless them saying:" God will do you grace, as you did with the deceased and with me. God shall grant you, and you shall find rest, each woman with her husband's home" [ Naomi wished her daughters in law to get married again]. And she kissed them for goodbye, while her daughters in law answered; "We will be with you and we will return to your people".
Naomi kissed them and they were carrying their voice crying saying we shall return with you to your people.
But Naomi urged, "Please, return my daughters, why shall you walk with me? Have I more sons in my intestine that they shall become your future husbands? Return my daughters, please go, because I am too old to be for a man, and let's say that I have still hope and tonight I shall marry a man, and I shall bear sons, shall you hope for them until they'll grow? shall you anchor yourselves to them?  Without being married to anyone? Please, don't, my daughters, because when I see you, I feel I am looking into a bitter mirror because the hand of God came out in me."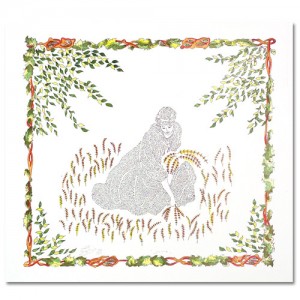 This is the place to say that when Naomi's husband died she was a widow, but when she lost both her sons and her daughters in law were left widows as well, Naomi simply could not take it anymore looking at her daughters in law and watching herself reflected in them. This is the reason she is asking them to return; she does not want to look into a bitter mirror anymore.12
Following Naomi request, Orpah kisses her mother in law for goodbye and turns back to Moab while Ruth is sticking with her. Naomi keeps asking Ruth to return like her sister in law to Moab and Ruth sais,"Please, don't plead me persistently to leave you, to go back behind you: because where you go I shall go, and wherever you live I shall live, your people is my people and your God is my God. Wherever you shall die I shall die, and there I shall be buried, so shall do God for me and so He shall add, until death do us part".
Naomi noticed that Ruth is making a of effort to go with her, so she ceased talking to her. And they went together until they came to Beit Lechem.
While they were facing Beit Lechem, the whole city started mumbling at them saying, "Is that Naomi ?" and Naomi replied, "Don't call me Naomi, call me Mara מרא (bitter) because God embittered me a lot. I went as a whole (husband, two sons), and God brought me back empty. Why will you call me Naomi (pleasant), and God react in me, and worsened it for me? "
And Naomi came back, and Ruth the Moabitan, her daughter in law came with her, from Moab fields. And they came to Beit Lechem at the beginning of the barley harvest.(( spring time, Passover))